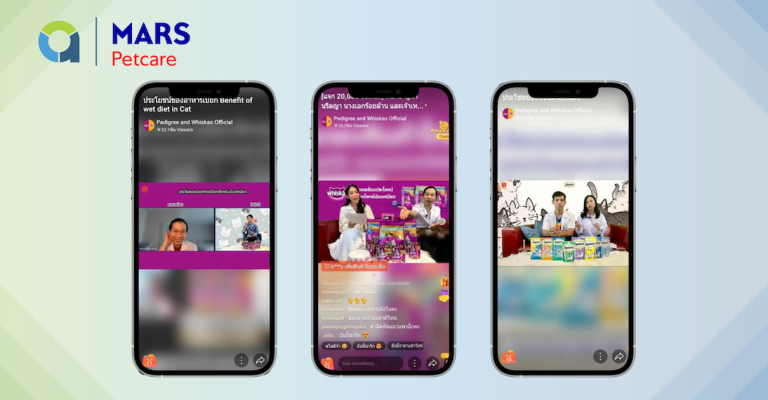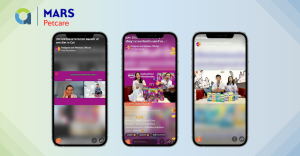 Even before the pandemic, live streaming in e-commerce had started to gain popularity among shoppers, enabling them to engage with influencers, attend online events, and discover new products. The lockdowns and social distancing restrictions have only served to amplify the use of live streaming and revolutionize the e-commerce sphere.
In recent years, consumer shopping habits have shifted, and live streaming has become a newfound way for retailers and brands to connect with shoppers.
A Fun and Exciting Approach
To better serve our brand clients, aCommerce offers live-streaming services to engage and retain the audience in a fun and exciting new way.
Pedigree and Whiskas, the world-leading brands of pet food, have partnered with aCommerce to oversee their live-streaming functions. We have been managing their official store on Shopee since July 2021. The brands decided to embark on a live-streaming journey with aCommerce. The strategies we implemented for the brands are focused on the data, as we aim to keep the customers informed on the best nutritional practice and health-related matters for their pets.
Under this partnership, aCommerce broadcasts weekly live streams (4 streams per month) for the two brands. As the largest e-commerce enabler in Southeast Asia, our task is to manage the entire live-streaming process from the strategy to conceptualization, content, production setup, and marketing leading up to the live-streaming session.
Our team invites celebrities to participate in live-streaming events to boost engagement and sales. Dr. Tarng, a leading veterinarian in Thailand, is one of our special guests who regularly hosts live-streaming sessions. She shares her insights on pet health, feeding schedules, and nutritional values and gives practical advice to viewers who tune into the show.
Since broadcasting started, Pedigree and Whiskas have racked up a solid fan base on their Shopee store, with an average of 10,000 viewers per session and about 1,000 additional followers after each live stream event, and still growing!
Live Streaming: Revolutionizing E-commerce
The live-streaming market is projected to expand by 22.4%, reaching $4.26 billion by 2028. New researches suggest that brands should consider adding the live-streaming approach to the marketing mix to engage with the 370-million Southeast Asia on a deeper level.
aCommerce can amplify your brand voice and identity through a fun and interactive social experience. These real-time videos can introduce and review your product, bringing your brand to life right where your customers spend the most time.
By offering innovative live-streaming services, aCommerce helps brands communicate, connect, and build relationships with their customers while boosting sales for their business.
Our broadcasting and live-streaming solutions encompass the complete range of relevant services, from developing the right strategy for your brand to sourcing influencers and hosting the event with our in-house broadcasters. We can create a detailed communication plan and organize the live session for your brand. Our offerings also include post-production analytics with in-depth data about the campaign, audience, and your viewers' shopping preferences so you can better plan your next move.
Our production professionals work with state-of-the-art equipment to produce quality-broadcast live-streaming videos that best represent your brand at aCommerce headquarters in Thailand.