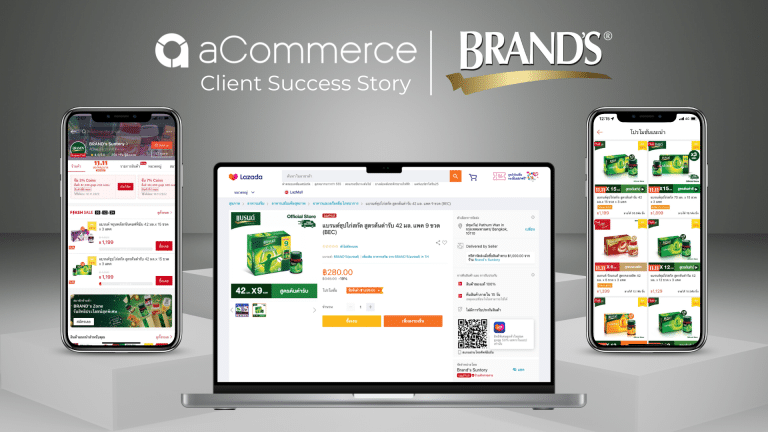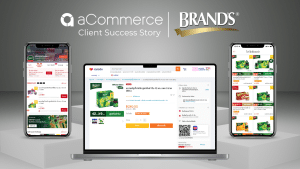 When Henderson William Brand, chef to the British royal family, concocted a special chicken soup in 1835 for King George IV, little did he know that he had created an enduring business that would be renowned the world over even after nearly 200 years.
That special soup is known today as Brand's Essence of Chicken, which in 1990 became part of the Suntory Group, bringing its own 100-year history of innovating new beverages, food, and health products.
But even with such remarkable and lasting success, the business still needs to move with the times if it aims to thrive and continue its success. To take businesses into the next century, Suntory has partnered with aCommerce to build its online stores across multiple channels. This includes marketplaces such as Lazada and Shopee, as well as social commerce platforms such as TikTok and Line.
Unique Solutions and Powerful Capabilities
When Brand Suntory was looking for an ecommerce enabler to respond to their business needs, they sought a company that offered end-to-end capabilities, regional expertise, global standards, innovative technology, and a unique multichannel solution.
As the largest end-to-end ecommerce enabler in Southeast Asia, aCommerce's service offerings were just the solutions they needed. aCommerce is an award-winning omnichannel enabler and software solutions provider in the region trusted by the world's leading brands, offering the complete spectrum of ecommerce services, from key account management to store operation, inventory management, warehousing, customer service, ecommerce marketing, business intelligence, and data analysis.
aCommerce is also able to support Brand's bid to expand to new channels with resources and systems.
Under the partnership, aCommerce is responsible for Channel Management Services, which encompasses the management of Brand's marketplace stores, content, and promotions. aCommerce also leads in reporting and performance reviews, as well as customer service.
aCommerce is also taking the lead in Operation Management, Technology Integration, and Maintenance, merchandise receiving and handling, unpacking, processing and handling area, and for the PO management system. In receiving goods, aCommerce will check the physical goods against the delivery order, and issue goods receiving notes and daily reports.
aCommerce also manages Brand Suntory's Order Fulfillment, including picking items from the location, ensuring the supervisor's authorization to pack the item, scanning and recording the item's serial number into the database, and providing real-time access to the dashboard.
Brand's products will be secured in aCommerce's world-class storage facilities in Thailand, managed through a real-time dashboard that offers visibility to the inventory level, ensuring a 30-day stock coverage based on aligned target sales, and follows a First Expired, First Out, and First In, First Out system.
In these facilities, products will be picked and packed for delivery by aCommerce personnel, ensuring boxes perfectly fit the product size. To offer Brand's customers the best value in the last-mile delivery process, aCommerce bears the delivery fee when the basket value exceeds 1,000 Thailand baht, and coordinates product returns from customers.
Quick Wins and Keys to Success
Since the start of the partnership, Brand's is already garnering success. Brand's ranked #2 among health products during the Lazada Birthday sale celebration, and – #1 in the Health category during the Lazada 6.6 mega sale days, Meanwhile, it ranked #2 in the Health category during the Shopee 3.15 sale day.
Brand's Suntory attributes these winning results to aCommerce's deep knowledge of ecommerce best practices and regional expertise.
"aCommerce understands the business cycle well and is always ready to adjust and support us to ensure that both our parties achieve our business goals," said Alisa Techawongwattana, Head of E-Commerce of Suntory Beverage & Food (Thailand) Co., Ltd.
"aCommerce strategically leveraged Suntory's data of current customers to capture new audiences, expand our customer base, and increase basket size."
Apart from Essence of Chicken, the product assortment was also expanded to include Brand's Bird's Nest and Veta Berry beverages. 
Partnership with a Bright Future
Moving forward, aCommerce will work toward establishing Brand's stores in all ecommerce touchpoints to align with the company's business objectives.
"aCommerce has the regional experience and professional capability to understand the ecommerce cycle and offer the full option of services and functions," said Alisa Techawongwattana, Head of E-Commerce of Suntory Beverage & Food (Thailand) Co., Ltd.