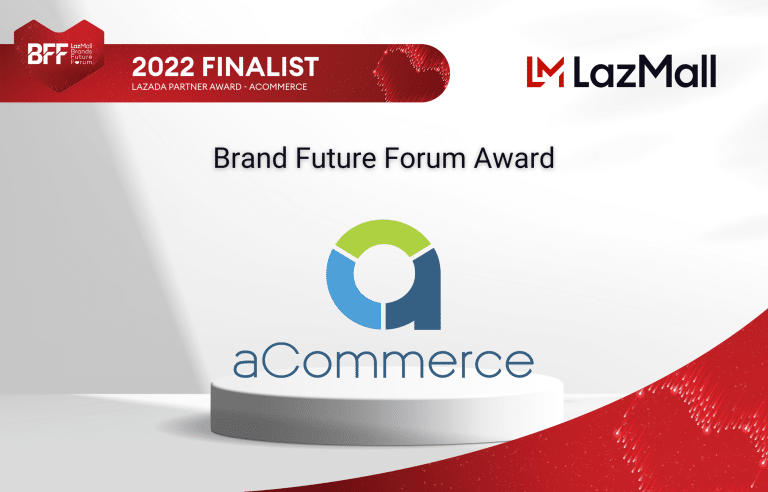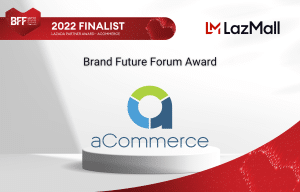 aCommerce was honored as a finalist in the Lazada Partner Award at the recent Lazada Brand Future Forum 2022. 
Held last September 1 at the Marina Bay Sands Expo & Convention Centre in Singapore, the awards program celebrates the excellence demonstrated by aCommerce Group within the retail ecommerce landscape in Southeast Asia, our ability to adapt our business strategies with agility in an ever-evolving commerce environment, as well as our creativity in conceptualizing and executing ways to engage customers and improve their shopping experience.
aCommerce is Southeast Asia's leading end-to-end omnichannel ecommerce enabler, trusted by the world's top brands. Our full spectrum of enablement solutions allows our clients to experience unprecedented speed-to-market time, leverage our regional expertise, and world-class solutions. 
aCommerce is recognized for its continued excellence in the following areas:
Unified Customer Experience
aCommerce develops ecommerce campaigns and channel solutions with a holistic message and experience using innovative data and technology. Our messages are appropriately timed to leverage the brand experience to customers fully.
Membership Loyalty Programs
Our solutions integrate brands' membership programs seamlessly into their LazMall store. We also help brands align their LazMall and offline loyalty programs to encourage repeat purchases and allow customers to enjoy incentives.
Customer Engagement Management
Our advanced customer operation experience allows brands to have better control over their valuable customer assets, enabling them to customize rewards according to each customer group's buying journey.
Universal Shopping Campaign
Supporting Lazada's top-performance marketing solutions with our algorithm-based solutions, we have automated selecting and optimizing SKUs, keywords, and creatives. As a result, campaigns have become more affordable, time-efficient, and easy to run. The boost in orders and traffic allows brands hefty returns on their investment.
aCommerce has been a consistent top-tier enabler in Lazada and is a member of the online marketplace's prestigious Partner Certification Program.
For four consecutive quarters in 2021 and 2022, aCommerce Thailand was bequeathed Lazada's 3-star award, the highest given to ecommerce enablers for excellence in operational and commercial services to brands across the region.
"aCommerce is committed to continuing to provide ecommerce solutions with excellence and following world-class standards," said Paul Srivorakul, aCommerce Group Chief Executive Officer.
We want to extend our gratitude to our clients, the team at Lazada, and our #aTeam for their efforts in achieving our client's success and upholding the highest operation and commercial standards.