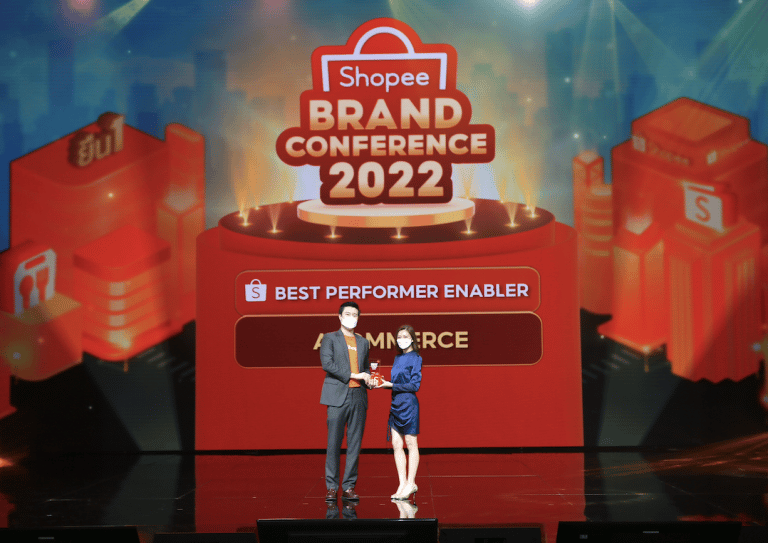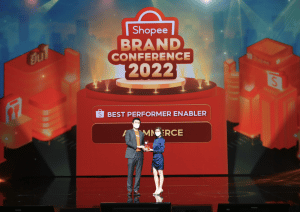 aCommerce is proud to announce that we were recognized by Shopee as the Best Performing Enabler during the Shopee Brand Conference 2022.
aCommerce received the award for actively growing brand clients on the Shopee platform and maintaining high standards of operational and commercial excellence.
The Shopee Brand Conference 2022 aims to celebrate brands' achievements on the platform, recognizing those that demonstrated outstanding marketing and commercial performance in the past year.
aCommerce received the award for actively growing brand clients on the Shopee platform and maintaining operational and commercial excellence in the following areas:
Powerful and innovative brand strategies
Excellent store operations
Top-tier marketing strategies
Creative implementation
Outstanding customer service
On-time fulfillment services
aCommerce Thailand Chief Commercial Officer (CCO), Apirada Tanapornwatana, was present at the Shopee awards event to represent the company and to receive the award.
"We want to thank our brand clients for instilling your trust in us. We truly appreciate your partnership. Our team is dedicated to consistently guaranteeing the highest standards, superb performance, and fantastic customer experience," Apirada Tanapornwatana said.
"Thank you to Shopee for your continuous support. We sincerely appreciate your close partnerships, and we are looking forward to our future collaborations!" she added.
Most importantly, aCommerce would like to express our great appreciation for our #aTeam members who are deeply committed to serving our brand clients with excellence, allowing us to constantly achieve success in our operations, order fulfillment, and customer satisfaction, and other ecommerce functions.
Consistent Award Winner
This is the latest in a series of recognitions that aCommerce received from the Shopee. For three consecutive quarters this year, aCommerce has received Premium and Certified badges from Shopee's Certified Enabler Program.
In the last quarter of 2020, aCommerce also received the Shopee Consumer Choice Award. aCommerce is a member of the Shopee-Certified Enablers Program in Thailand, Singapore, the Philippines, Indonesia, and Malaysia.
The awards were given in recognition of aCommerce's proven track record of brand growth excellence, client success, and outstanding operational services in the following areas:
Warehousing
Order fulfillment
Shop operations
Listing management
Digital management
Marketing
Customer service
Regional E-commerce Powerhouse
aCommerce is the largest, top-rated, award-winning e-commerce service provider in Southeast Asia, offering robust end-to-end e-commerce business solutions for global brands across the region.
aCommerce has consistently been recognized by other prestigious ecommerce business partners, receiving a variety of best performance honors from Google, social commerce platforms, marketplace, and leading brands and retailers.
About aCommerce
aCommerce is the leading end-to-end e-commerce enabler in Southeast Asia. We drive brands to achieve their e-commerce goals with high-performance digital marketing, online store development & management, data & analytics, customer care, fulfillment, and delivery services.
The aTeam, our 700+ staff across the region is dedicated to providing seamless integration between offline & online, with 5 fulfillment centers driving global leading clients to e-commerce success.